Microsoft Excel Training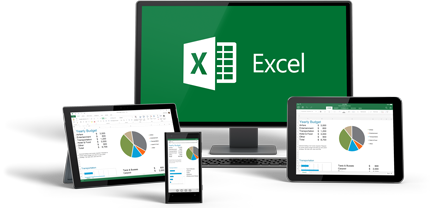 Live Online Classes
Instructor-led Excel classes delivered via Zoom or Webex webinar. Hands-on training from the comfort of your home or office.
View Schedule
Group Training
Group Excel training delivered by a certified MS Office trainer at your location or via webinar.
Obtain Pricing
What is Microsoft Excel?
Microsoft Excel is the most commonly used software program in the World. It is used to organize, present and analyze data using spreadsheets. From a simple budget to complex analytic spreadsheets that use tools such as Pivot Tables, VLookups, and functions and formulas.
How Online Excel Training works?
Our online Excel classes are hands-on and instructor-led. Trainees connect into a virtual Zoom classroom from the comfort and safety of their home or office. Classes are 5 hours in duration. Should trainees need a refresher they have the option of repeating the class free of charge.

Onsite Microsoft Excel Training with Training Performance
By bringing our Microsoft Excel training straight to you and your team, we're not only making things easier for you, we're saving you money! No more lost hours sending staff to classes, and no more additional transport fees. We have a team of certified Onsite MS Office trainers who travel the country delivering top notch Excel training right to your doorstep.
Obtain pricing today
.
View Course Outlines
Excel Level 1 - Introduction
1 day | Windows | Mac
Duration: 6 hours
More Info
Excel Level 2 - Intermediate
1 day | Windows | Mac
Duration: 6 hours
More Info
Excel Level 3 - Advanced
1 day | Windows | Mac
Duration: 6 hours
More Info
Excel Level 4 - Macros & VBA
1 day | Windows
Duration: 6 hours
More Info
Testimonials
I would love to learn more from Rich. He has a skill at being clear and concise and at the same time patient and willing to elaborate. He knows his subject so well - the potential for Excel became very clear throughout the day. Great class. Definitely worth my time and my employer's money!

Danele Butler - Helping Hand School for Autism
This was a virtual class and was excellent! I was a little skeptical about an online training but it far exceeded my expectations. Bob is an excellent instructor! I learned a lot. Thanks!

Maryann Babic - Office of Personnel Management
Bob was a really great instructor! Even though I wasn't physically in a class I feel like I was able to absorb everything that was taught. Bob had no problem repeating himself as I switched back and forth between screens which I really appreciate. I'm going to take what was learned today and implement those things in my day to day work. I hope to have Bob as an instructor when I come back to Training Performance for Excel 3!

Taylour Foggie - ADHA
Key Benefits of Onsite training
Affordable

Onsite training is an affordable
way to up-skill your entire team.
Convenient

Let one of our trainers come to you,
we deliver training to your doorstep.
Customizable

Tailor the training to meet your needs.
All classes are fully customizable.
Locations
We provide onsite Excel training right across the country, including: